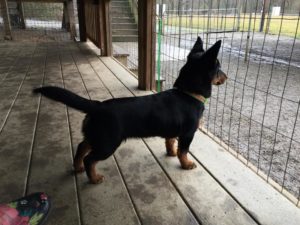 DOB August 13, 2014/Co-owned with Pat Klausman
I met Pat in 1982, when I was 17 years old. She was my first mentor in the world of dogs and dog competitions. I had my first puppy, a Rottweiler, and was enrolled as a student in her weekly obedience class held in Atlanta. She was the go-to trainer in the Atlanta area and I was excited to learn and train with her.
Fast forward 30 years and Pat and I have the opportunity to train together again. She was retired from her very successful kennel and training business, but was still very involved in dogs and competing. One afternoon at our weekly Schutzhund club training gathering she mentioned she wasn't cut out for full retirement and was looking into working part-time at a training facility. I asked her if she'd consider working with us and happily she agreed.
While here she grew to love the Heelers and mentioned that she'd love to have one for herself. When I was in the UK picking up Haka, I told Enid to keep us in mind for a girl pup down the road. In the summer of 2014 Enid contacted me to tell me a promising litter was due and she'd hold a girl for us. I flew back to the UK in October and brought Jonesie home to Pat. Pat and Jonesie quickly became devoted to each other. Jonesie goes everywhere with Pat and has become quite the ambassador for the breed.
Pat's knowledge and experience breeding Golden Retrievers for many years is a valuable asset to our program and we, as well as the breed, are lucky to have her input and excitement in this endeavor.
To learn more about Pat read here.