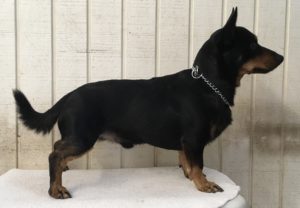 DOB February 2, 2014/DNA tested clear for PLL and CEA
With the unexpected loss of Sergeant, we had to start our search for a new foundation male to get our breeding program started. Once again, we decided bringing in new bloodlines from the UK would be the way to go.
The Foxthyme kennel name is well known in the UK and Enid Lord, the breeder, one of the most respected and knowledgeable breeders in the breed. I started a correspondence with Enid and quickly came to realize why. She is straightforward, forthcoming and a veritable font of information. She wanted to make sure we got just the right male to establish our program and told me she'd let me know when she had a pup for us. In February of 2014 she contacted me to let me know she had a litter with a suitable male available. I was doubly thrilled to find out the male she had was from a repeat of the breeding that had produced Foxthyme Bradley, her multi Best of Breed and Crufts Winner!
As regulations for importing from the UK had changed a bit, it was decided it would be best if I flew over and brought the puppy back myself. I made reservations and went to claim the puppy that was to be my husband's Father's Day gift!
After an all too short visit with Enid, I packed up our new pup and headed home. Haka was the star of the flight and readily accepted random passengers, flight crew, customs officials and curious children in the airport's attention. He barely made a peep on the long flight and even figured out to relieve himself on puppy pads on the bathroom floors.
He immediately became Mike's constant and devoted companion and has grown up to be everything and more than we'd hoped for.